Rust-x VCI spray can
contact us
Company Name: Suzhou Yiyang Protective Packaging Materials Co., Ltd. Tel: 0512-57562239
Mobile number: 13962612239
Contact: Liu Xiaodong
Email: 13962612239@163.com
Company website: http://www.yyfhbz.vip.yiqibao.com
Address: Room 1038, Hall 6, Zhengtailong International Equipment Purchasing Center, No. 1288 Chengbei Middle Road, Yushan Town, Kunshan City
Rust-x VCI spray can
Home
> Rust-x VCI spray can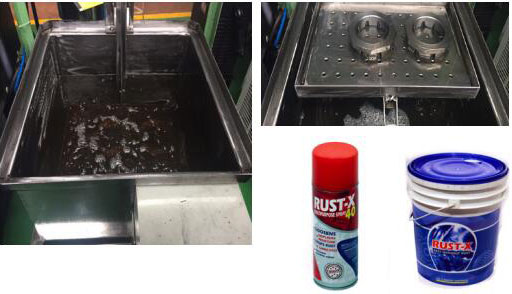 TDS Chemical Skills Specification
Product series: RUST-X 40-rustproof oil
Product grade: RUST-X 40 spray can
product description:
RUST-X anti-rust oil has a patented VCI gas phase anti-rust technology, which can be used for a long time. Rust-X rust preventive oil prevents corrosion of metal parts even in destructive environments. For example, it provides corrosion protection for proper shipping and long-term storage of parts in a salty environment.
The rust-proof film formed by the RUST-X 40 spray can has a lubricating effect during application, but will dry out into an invisible film 5-10 minutes after application. According to the application of components, packaging and environment, this layer of invisible film can provide short-term and long-term corrosion protection.
RUST-X 40 works exceptionally well in steel, aluminum, iron, brass, copper, zinc, nickel, chromium and other multi-metal systems. The rust preventive oil permeability can loosen rusted parts, plugged bolts, hinges and other mechanical parts. The rust-proof oil spray can also reach hard-to-reach areas such as gaps, deep holes, etc., and at the same time provide lubrication.
RUST-X 40 is dewatering and water repellent and can be used to remove moisture and water from metal surfaces, automotive stickers, spark plugs, cables and battery terminals.
Applications:
This product can be sprayed on areas that require maintenance (it must be cleaned or lubricated before spraying).